Altay Pipeline System
The 'Altay' pipeline system is designed to provide for gas downstream from Russia to China and is an offshoot from the already existing major gas line that goes from Urengoy to Surgut to Chelyabinsk.
The Russian length of this gas pipeline system crosses six Russian Federation regions, including Yamal-Nenets Autonomous Okrug, Khanty-Mansi Autonomous Okrug, Tomsk Oblast, Novosibirsk Oblast, Altay Kray and Altay Republic.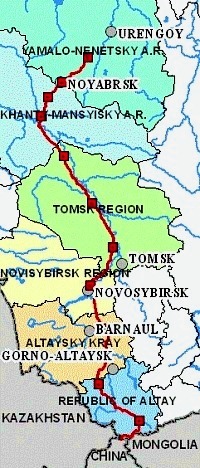 At the design stage the project is currently in it is the compressor station in Purpe (Purpeyskaya CS), which has been admitted as the starting point for the pipeline. The station is part of the existing Urengoy-Surgut-Chelyabinsk gas trunk. The final Russian point of the pipeline is on top of Kanas pass in the mountains on the border with China. The total length of the Russian section of the pipeline system is 2,622 km.
2006-2007. Developing the Environmental Impact Assessment (EIA) as part of the Investment Feasibility Study of Altay project.
The project facilities as per the current design include:
· The pipeline itself, 2,622 km long;
· Eleven gas compressor stations;
· Gas cooling station at Purpe CS;
· Gas metering station (1 km before
the border with China);
· Telemetrics control points;
· Cathodic protection units;
· Package transformer substations;
· Radio relay station along the pipeline;
· Helipads (helicopter landing sites).
Ecocenter scope under the Environmental Impact Assessment task included:
A baseline environmental assessment in the project zone;

Lookaheads for potential project impacts on the various media of the natural and social environment during Construction and Operations;

Impact mitigation package: a suite of environment-protecting arrangements to preclude or reduce potential adverse effect of the project on the environment;

An aggregate review of economic environmental aspects of the decisions the project has made; and

An environmental monitoring program.
The project has enjoyed a positive judgement on the part of the Federal Environmental Panel (State Environmental Expert Review – SEER).