West Salym hydrocarbon field
Location – Nefteyugansky District of Kranty-Mansi Autonomous Okrug region in Westerm Siberia, Russia.
The West Salym oilfield is one of the new and rather perspective petroleum reserves in Westerm Siberia. Along with Vadelyp and Upper Salym fields it forms the cluster of Salym fields.
One of the challenges with these fields is their remoteness from the nearest communication or pipe lines or roads.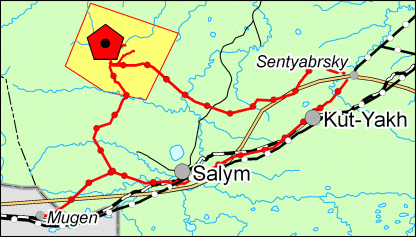 As part of the indispensable infrastructure for these facilities the project went on to build a robust system for the transport of crude to the location where it would tie into an existing major pipeline of OAO AK Transneft.
Other infrastructure for the field included wellpads (well clusters), an oil treatment site and oil metering station at the above-mentioned tie-in point.
2003. An environmental survey covering the locations of the then-future infrastructure of West Salym field.
2004. An environmental survey covering the entire route of the would-be oil pipeline that was to connect the Project Central Processing Unit and the oil custody site.
2004. Developing an Environmental Protection section in each of the TEOC-type projects – one for the export pipeline and the other for the various West Salym project sites.