GIS Technologies
Based upon the technologies of GIS, CAD, DBMS and remote sensing data, Environmental Centre IFPA
Completes:
• processing of graphic and factographic data
• preparation of the mapping package for environmental assessment studies

Develops:
• environmental databases that have references and geographical links between the various objects
• data processing methods using GIS and DBMS means, including making software modules, preparing methods ready for implementation, training the user
Applying GIS Technologies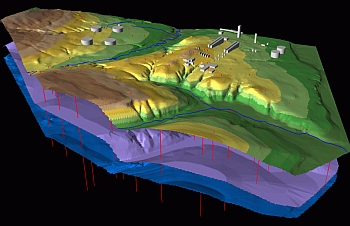 The Company introduced the technology of the formation, processing and presentation of environmental data.
On the basis of Geographic Information System (GIS), automated design system (CAD), database management system (DBMS) and remote sensing EC performs:
Baseline environmental components state database processing and registration;

environmental state change control for the duration of the cycle: design – construction – commissioning – operation – dismantling;

on-line data processing and cartographic document preparation for environmental assessments.
Gis technologies were extensively used in project elaboration for:

development of Sochi as a mountain
climate resort, 2006 – 2014;

combined Adler to Alpika-Servis
mountain climate resort highway/railway construction;

Sakhalin island oil & gas fields development;

West Salym hydrocarbon resource development;

Caspian Pipeline Consortium (CPC)pipeline construction.